The White House Coronavirus Task Force has announced a federally-supported Community Vaccination Center will open April 14, 2021 at Columbia Place Mall in Richland County.  Anyone aged 16 and older will be able to get vaccinated at the Columbia Place Mall site.  Additional details and information for this site will be available soon.

Additionally, individuals eligible to receive vaccine may also call DHEC's Care Line at 1-855-472-3432 or utilize this online resource for other vaccination locations.
What Phase am I in?
DHEC's top priority is to save lives. Everyone will have a chance to get the vaccine. However, the number of doses is currently limited in South Carolina like in all states. We ask everyone to please be patient, learn what phase you're in and follow the guidance of our public health officials. This will allow public health officials to ensure those at highest risk and those who keep us alive are vaccinated first.
To support this effort, vaccine distribution is occurring in a phased approach. The following outline provides an overview of the anticipated categories and time for each phase. This is subject to change at any time for many reasons, such as a change in federal guidance or in the VAC's recommendations for South Carolina.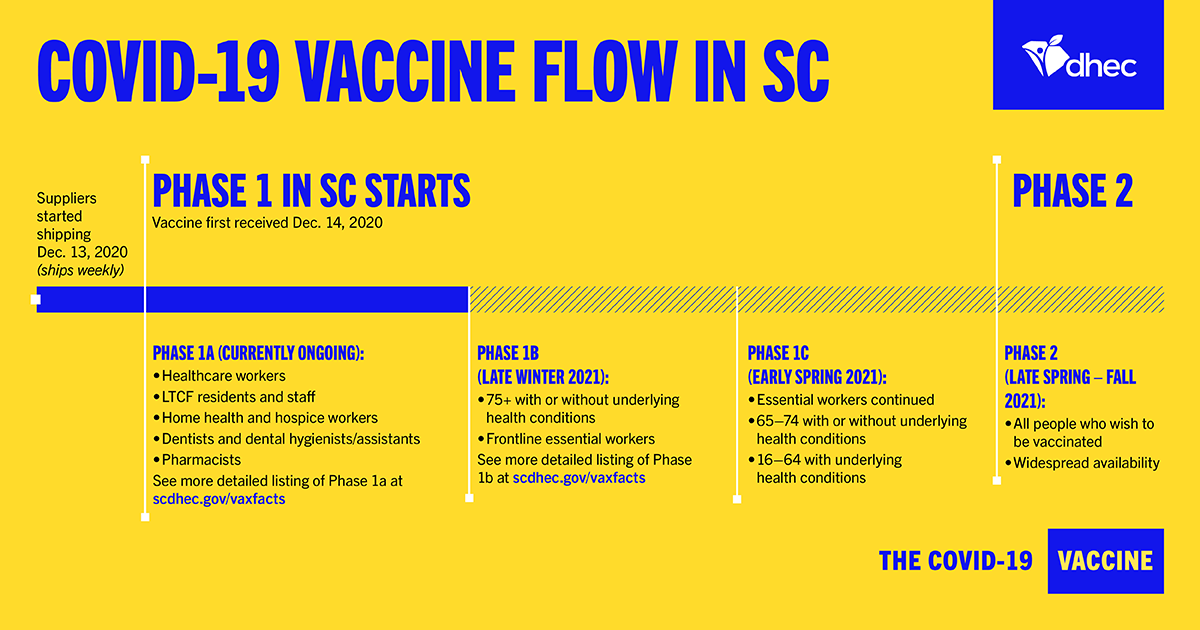 Phase 1a
Phase 1a includes:
Healthcare workers

Initial focus on frontline healthcare workers at high risk of exposure and mission-critical to the overarching goal of preventing death

Residents and staff of long-term care facilities

Admitted hospital patients, who are aged 65 years and older, as long as they do not currently have COVID-19 and a provider feels it is indicated for them
Healthcare workers include:
Anesthesiology assistants, registered cardiovascular invasive specialists, and operating room staff
Athletic Trainers
American Sign Language (ASL) and other interpreters in healthcare facilities
Autopsy room staff, coroners, embalmers, and funeral home staff at risk of exposure to bodily fluids
Chiropractors
Dentists and dental hygienists and technicians
Dietary and food services staff in healthcare facilities
Environmental services staff in healthcare facilities
Harbor pilots
Home health and hospice workers
Hospital transport personnel
Laboratory personnel and phlebotomists
Licensed dietitians
Medical assistants
Medical first responders (paid and volunteer): EMS; fire department and law enforcement personnel who provide emergency medical care
Nurses, nurse practitioners, and nurse's aides/ assistants
Opticians and optometrists and assistants/ technicians
Persons providing medical care in correctional facilities and correctional officers
Pharmacists and pharmacy technicians
Physical and occupational therapists and assistants
Physicians, including medical house staff (i.e., interns, residents, fellows), and physician assistants
Podiatrists
Public health healthcare workers who are frequently interacting with persons with potential COVID-19 infection
Radiology technicians
Respiratory care practitioners, such as respiratory therapists
Speech language pathologists and assistants and audiologists
Students and interns of the above categories
Phase 1b (Currently Ongoing)
*All time estimates are subject to change due to vaccine availability, demand, and provider participation.
Phase 1b includes:
All people aged 75 years and older

Frontline essential workers

Sectors included by ACIP: firefighters, law enforcement officers, corrections officers, food and agricultural workers, USPS workers, manufacturing workers, grocery store workers, public transit workers, and those who work in the educational sector—teachers, support staff, and daycare workers
Phase 1c (Early Spring 2021)
*All time estimates are subject to change due to vaccine availability, demand, and provider participation.
Phase 1c includes:
All people aged 65 – 74 years and older

People aged 16 – 64 years with certain underlying health conditions that puts them at high risk for severe disease (list by CDC)

Other essential workers 

Examples included by ACIP: people who work in transportation and logistics, food service, housing construction and finance, information technology, communications, energy, law, media, public safety, and public health staff who are non-frontline healthcare workers
Phase 2 (Late Spring-Fall 2021)
*All time estimates are subject to change due to vaccine availability, demand, and provider participation.
Phase 2 includes:
ALL people who wish to be vaccinated 
Ages per recommendations by ACIP
Phase 2 vaccinations are anticipated to begin in late Spring 2021, with the vaccines expected to become available for the general public during the summer and fall of 2021.
What Should I Do Now?
 Everyone will have a chance to get the vaccine. We call on all South Carolinians to continue to stand together to fight this disease by taking small steps that make a big difference:
Wearing your mask

Getting tested and staying home when you're sick

Avoiding large gatherings

Practicing physical distancing
Information obtained from scdhec.gov and scha.org.