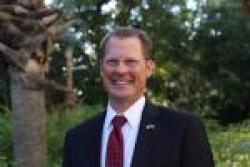 Born in Anderson County in 1967, Lieutenant Governor Kevin L. Bryant graduated from T.L. Hanna High School in 1985 and the University of Georgia with a Bachelor of Science degree in Pharmacy in 1989.  Since then, Bryant has managed, with his brothers and father, Bryant Pharmacy & Supply, an independent pharmacy located in Anderson.  Working together, the Bryant family has upheld the "old corner drug store" image while Bryant Pharmacy & Supply has diversified and developed into a highly skilled pharmacy as well as a provider of oxygen, medical equipment, and diagnostic supplies.
Lieutenant Governor Bryant married his wife, the former Ann Barinowski of Augusta, GA, in 1989; they have three children.  The Bryants attend Concord Community Church, a non-denominational New Testament fellowship, where Bryant has served as a deacon.  He has also served on the Board of Directors for Camp Hope, a Christian youth camp, where he commits one week each year to serve as activities director there.
In 2004, Lieutenant Governor Bryant was elected to the South Carolina State Senate, where he served for 12 years.  As a member of the State Senate, he chaired the General Committee and also had committee assignments on Agriculture and Natural Resources; Corrections and Penology; Finance; and Labor, Commerce, and Industry.
Following the resignation of Lieutenant Governor Henry McMaster, Bryant was elected President Pro Tempore of the South Carolina State Senate before being sworn in as South Carolina's 92nd Lieutenant Governor on January 25, 2017.  In his role as Lieutenant Governor, Bryant serves as President of the South Carolina Senate and oversees the Lieutenant Governor's Office on Aging.
During his tenure in public service, Lieutenant Governor Bryant has been a constant voice for limited government, lower taxes, and supporting traditional family values.  As Lieutenant Governor, he remains committed to his beliefs and providing superior constituent service to all South Carolinians.